I've always liked to experiment with different wood types when building my guitars. Over the years, I've tried several fretboard different woods like Cocobolo, Sheduah, Ebony, birdseye and flame maple, baked maple, Ovengkol, Wenge and Rosewood.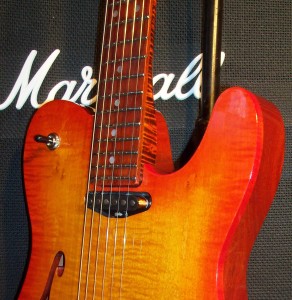 This particular guitar originally got a Padauk board with white pearl dots. After a year of using the guitar with this board, I came to the conclusion that I didn't like it. The colour of the Padauk had shifted and didn't go very well with the guitar's cherry burst finish. More importantly, I didn't like the feel of the fretboard. Padauk's grain can be coarse in places and can be inconsistent in density, but this was primarily a cosmetic upgrade.
I decided to simply change the fretboard. This can seem like a daunting task but it is actually quite simple and can be done to look as though the new fretboard was the original. All you need is patience, a clothes iron, a damp towel and a couple of thin drywall spatulas.
I wasn't sure what to use as a fretboard and I was very tempted to go with a maple board. With the maple, it would prove to be quite the task since I stained the neck shaft. I would risk color bleeding into the new fretboard and not having a nice clean line between the stained neck shaft and the new, unstained board. I already have a couple of maple board fretboard guitars anyways so it was time to try someting new.
I finally settled on Ebony. I put ebony aside for a long time because of the way it is harvested. For decades, companies have been harvesting ebony in the most wasteful way you could imagine and I did not want to support that. Why did I decide to go back to ebony? Because things have changed and we can now get responsibly harvested ebony. Bob Taylor did a very good video on the state of ebony. Here it is for reference.
So I got some responsibly harvested ebony in a local wood shop and proceded to make it into a fretboard. The neck got its Padauk board removed and it looked like this when I was done taking it off. It takes about 60 to 90 minutes to do on a neck like this. This doesn't include any surface prep or refinishing I might have to do if there was a finish on the neck shaft.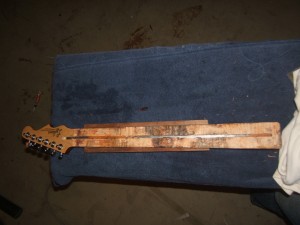 Here's the neck with the new fretboard in place. You can see that the wood has some beautiful lighter streaks in it. I went with black abalone dots for the markers and white pearl for the side dots. I think it looks great!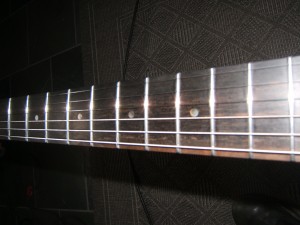 I'm happy I did this. The guitar's neck feels better with the ebony board, looks better and retains that snappy string attack I loved so much with the Padauk.
The ebony's vanilla colored streaks are definitely a nice feature and they tend to blend in nicely once the fretboard has been oiled and buffed.
Moral of the story: If you have a guitar you like but would like to try a different fretboard, or your fretboard is worn out, which can happen with multiple refrets, don't hesitate to consider a new fretboard.